I have been a little bit quiet the last today's and there are 2 times when I go like this, May 27th and today November 16th.
Our daughter was born November the 16th and she would be 52 years of age. She was killed at the age of 16 just as she had left school  May 26th and each year we have to live with always being 16. That was her life span but as long as they were happy ones  then we have happy memories but we would have liked all 52 years of her life to celebrate. The grandchildren around us and maybe Great grandchildren
Instead we only have an angel a beautiful angel to wish Happy birthday darling.
http://www.smashwords.com/books/view/43717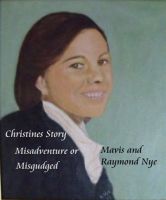 We have been out in the fresh air as I have collected my glasses.
They fitted very well with no adjusting, so know that covers my face very nicely so I can go in public looking like normal and not like a boxer who lost his round.
I will let Ray tell what has happened today as I would be just repeating it and it was funny trying  to find why my cooker clock didnt work  he he !!!——
Well! Today started off busy. The clock and timer on cooker was not working. So my first job after walking louis was pull out the cooker and see whats the problem. The cable went from a box on the wall  to a box on the back. After trying to open the box on the back  I eventually got it off and open. Just a jncn Box. Checked it for power. No reading so  dead. Next I squeeze in behind cooker and get one of the 2 covers off. no power. next open up other cover no power. . Back in the cupboard switch all the fuses up and down ,test the box all ok   back to cooker, no power.
Scratching head . So  when ever adding anything to  any plugs always check. So last thing added was the new freezer. Thats working fine. But I  can see tucked away in the corner 2 blind switches. So I remove  a cover and test fuse. OK its fine. Next one  oh yes fuse is blown. Bearing in mind these are two flat blind switches  with no light on. compared to all  the others that have a red light on. Next  its out in the shed  hunting in my junk box  for fuses. find 3 old ones. first 2 dead so its time to bin them. the  3rd one is ok its to big but  so what. put that in hey presto  oven working. now its replace all the hanging covers wash down the sides and back of the cooker clean all the area and the floor. push it all back Job done  Walk in the den Oh no all the computers are off the modem is blinking but  it says no internet. After resetting several times I get a result. Life would not be worth living if Mavis didn't have internet. . The upshot of this nightmare was when I plugged in the tabletop freezer I must have turned off the switch that powers the oven because  the one with he  blown fuse was not the one for the oven anyway.
Just had a call from opticians mavis glasses are ready  should be a week but  its been 2 days how good is that. Somethings go right.
I've changed the dressing on her hand so that's sorted.
We have been up and collected her new glasses.  At last  after  ages trying yesterday I've managed to  turn  a file  on PC to a DVD  that  plays on TV.  It takes ages but it works.
I have showered and washed all my wounds and redressed my hand so everything is healing with the bruising going down and changing colour.
Rays blog http://mesoandme.wordpress.com
A link to all our books we write for Mesothelioma UK
http://www.rayandmave.org.uk/html/more_of_our_books.html