You may have completed the original survey about your experiences of diagnosis, treatment and care of mesothelioma.
The James Lind Alliance created a list of the questions identified from the original survey of patients, carers and health professionals and wanted to know which questions we thought were the most important based on our own personal experience.  The ones chosen as priorities were then used in this workshop lto create a final shortlist.  That final shortlist will be promoted to researchers and research funders, to highlight the questions that mesothelioma research needs to answer.
The James Lind Alliance (JLA) is a non-profit making initiative which was established in 2004. It brings patients, carers and clinicians together to identify and priorities the top 10 uncertainties, or 'unanswered questions', about the effects of treatments that they agree are most important.
This information will help ensure that those who fund health research are aware of what matters to both patients and clinicians.
This website contains information for those interested in finding out more about the JLA, and those who wish to become involved.
Check the Link to find out about what the JLA does, andwatch a video describing the JLA's approach to stakeholder involvement in research priority setting.
With this invitation Ray and I set of on the fast train to St Pancreas today in the rain.
I love the speed of the train and we arrived into London at 8.30am.
Walked past the Novatel Hotel that holds a lot of memories for me of past Mesothelioma UK Conferences and the ghosts of Mesowarriors that have passed. I must admit a was hoping to see a white feather.
We arrive at the building for the meeting so it was easy to find thank goodness.
So many old and new friends. Prof Dean Fennel, Jeremy Steel, Liz Dawlinson among them and warriors, carers and health professionals so it was a good mixture of people.
We met in Room 1 where it was all explained to us and then we were divided into 3 groups. Ray went off with Dean Fennel I was a little jealous but I had Jeremy Steel so that made up for it.
I met up with a wonderful man that had me laughing all day Vince (My Hooray Henry) He was so posh but he was lovely.
Leah a Carer was good and very knowledgeable as was everyone else and we soon had our list of questions in order. So we went to lunch. After lunch we had to go into other groups and sort out the questions that everyone had sorted it is a process of elimination of what trials should be funded.
By the time we went back into room 1 it was getting harder to keep going over them but we did and every one is happy with the outcome. It will all be published so I will be able to put the final report on here.
The final decision is made.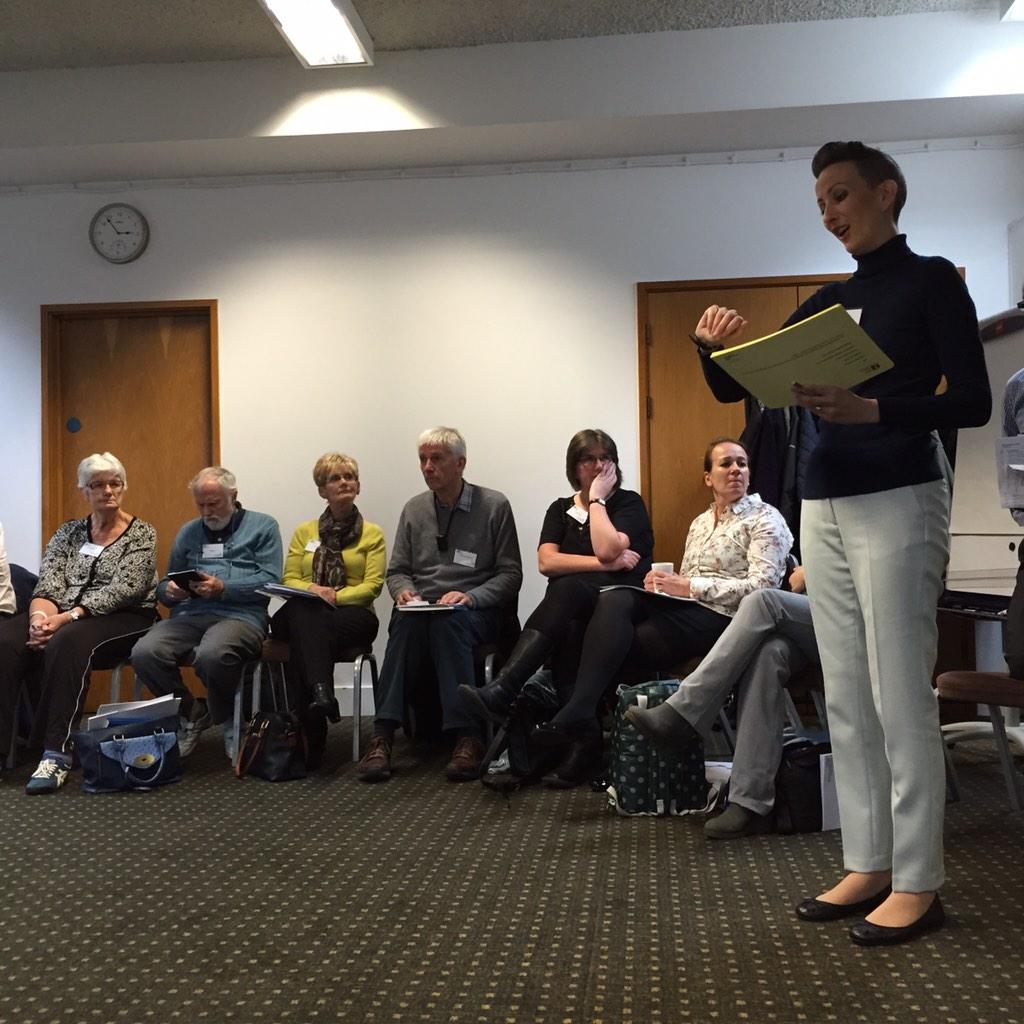 I have found out that if my visit to St Georges does mean my hormones are upset by the trial they will sort it out for me, I wont need to come off the trial. So I was so relieved.
In France where they have been carrying out the trial people didn't get any result for about 5 months and then it happened and the Immune system was turned on. So that's why my results are doing even better as at the first scan I had 33% shrinkage.
It appears though that Immunotherapy doesn't suit  everyone. I hope they improve on that.
We said our goodbyes and got back to the station to catch the fast train with a minute to spare. It was packed but we did get a seat.
It was good to get home and have dinner.
Now we have to go out again tomorrow. Being ill is a busy time.
Rays Blog http://mesoandme.wordpress.com/2014/11/10/monday-104/