Oh I hate the alarm going off at 5am and then ist all rush to get ready to go for my Drug. The car was covered in frost so its so cold as we spray the window screen.
We had a nightmare journey to the M25 as they have shut one lane by Clackets lane due to repairing the central reservation. There has been an accident there.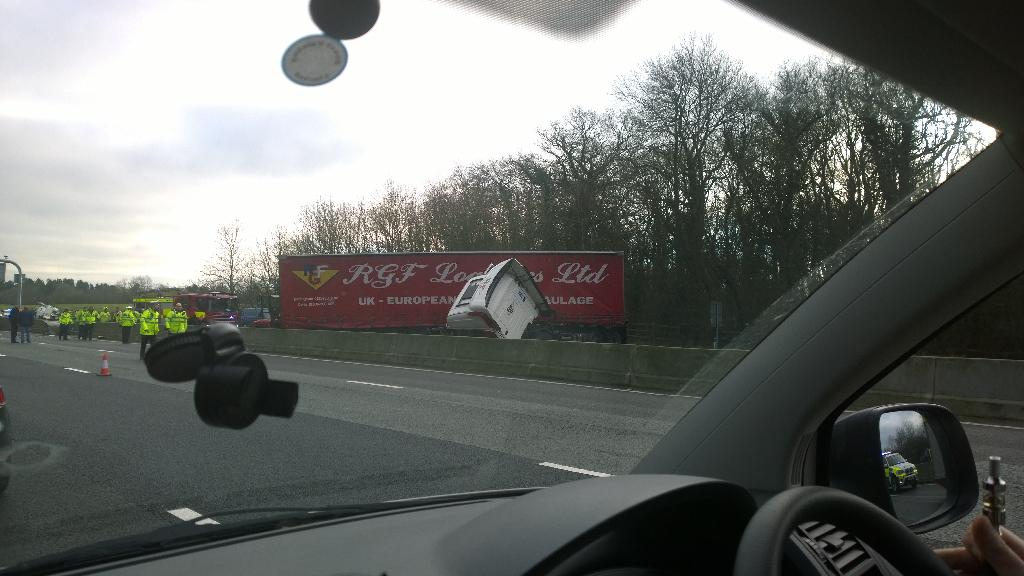 This was on the 19th and the road was closed. So at least it was only one lane closed each side to us today.
http://metro.co.uk/2015/01/19/m25-crash-motorists-face-severe-delays-after-lorry-smash-near-clacket-lane-5028001/
This road is lethal and so many roads lead into it.
It is the biggest car park at times.
We did get a move on when we passed it so it didnt hold us up to much.
Arriving at the hospital I left the car fast and dived in the Loo Ha ha !!
I had my bloods taken and my PICC line dressed. Im so pleased I had it fitted when I watch the painful needles in the other patients arms and the buckets of hot water they use to get a good vein.
My blood is drawn so fast -job done.
I then had the Doctor waiting for me straight away.  She is Spanish and today she had a colleague who was Brazilian.  She said asbestos was banned but the do see mesothelioma cases
Oh no they havent –Activists in Brazil are likely to be particularly dismayed by the court's decision. The country is the world's third-largest asbestos producer – at 300,000 tons per year – and a major consumer. Asbestos has been used extensively in Brazil, , mostly in the form of cement for roof tiles and roofing panels, plasterboard, and domestic and industrial water tanks.
http://www.theguardian.com/global-development/2014/nov/20/italian-supreme-court-asbestos-ruling-brazil-eternit-afeva-stephan-schmidheiny
Oh dear no wonder she is in the UK learning to treat Cancer.
Anyway it had shown in my water sample I have the water infection back so we discussed about my going on a coarse of antibiotics. She wrote a prescription and Ray handed it to the Pharmacist.
We had a coffee and a cake and went back to the waiting room.
We had different chats as we each learnt about the cancers we all had. Brain tumour was one poor man who had it operated on but the second one has appeared and its to dangerous to operate.
He was such a cheerful happy man even though he had lost the use of one side of his body. Another man had a funny sounding one that we didnt like to push but he had to go by taxi to another hospital for an eye test then come back. Taxis had been laid on so he enjoyed a journey out.
Then The Doctor came out and called me in again.
My heart went in my mouth. As Alistair had news yesterday I thought it was my turn. I woke Ray with a start and we went in.
It was to say that the Antibiotics she had ordered,  the Pharmacy phoned to say would hurt my kidney. Phewww!!! But how amazing they really do look after my kidney.
So we are going to wait for the Lab to tell her just what infection I have and she will email my GP to supply me a prescription.
But my bloods were fine and the drug was being made up.
I cannot believe that at 1.30pm I was called as my drug was ready.
I was soon receiving it through my vein. Its so amazing how 3 people can be so different. but for me its my wonder drug so I hope my scan on the 23rd of February shows more shrinkage.

The other 20 cancers are getting good results but we discussed that Mesothelioma is so hard to control.
Mesothelioma is one of the hardest types of cancers to treat. Progress has been made in treating this type of cancer. But we need to learn a lot more about this disease and how best to treat it.
Until research studies are completed and new effective treatments are found, the treatments covered here cannot be used as standard therapy for mesothelioma.
There is some evidence that your genetic make up could affect your risk of mesothelioma. As well as asbestos, exposure to a mineral called erionite is a risk factor. Researchers in Turkey found that in some families exposed to this mineral, everyone developed mesothelioma, and in others, no one developed it. They think that the families affected must have a gene that increases their risk. This could explain why some people who are exposed to asbestos do not develop mesothelioma, while others do.
We need a lot more research to be done before we will know if there are specific gene changes that can increase your risk of mesothelioma. It will be some years after this has been completed before there will be any chance of testing for such a gene.
Understanding the changes in the genes of the mesothelioma cells helps in developing treatments. Researchers are finding out more about these changes.  The aim of this research is to understand more about how mesothelioma develops and how the changes in the genes of the cancer cells affects how well different treatments work. They hope that this will help to guide treatment in the future.
http://www.cancerresearchuk.org/about-cancer/type/mesothelioma/treatment/whats-new-in-mesothelioma-research
We were soon on our way home and was in doors by 3.30 even after shopping. Now thats how I wish it went every time it would be so much easier.
http://medicalinnovationbill.co.uk/medical-innovation-bill-is-passed-by-lords-and-sent-to-commons-at-third-reading/?utm_source=Saatchi+Bill&utm_campaign=73690085b8-3rd_Reading_House_of_Lords1_22_2015&utm_medium=email&utm_term=0_87c59b6bfe-73690085b8-334460853
There were two amendments tabled from Lord Winston and Lord Hunt both of which were supported and signed by Lord Saatchi.
We are thrilled that Lord Hunt's amendment on the Medical Innovation Register was accepted.
This unprecedented register of innovation, which has been called for by many organisations and individuals, will make it a mandatory requirement for anybody using the Bill to register the treatment and the outcome, both positive and negative.
It moves treatments that without sharing and transparency could become just an anecdote into sharable evidence that can be used to treat other patients and inform clinical trials.
Oxford University have already offered to host the Medical Innovation Register and the Medical Innovation Bill team is consulting widely on how the register will be set-up, managed and funded. We will keep our website updated with all the latest developments.
The Bill has now moved to the House of Commons and is a step closer to helping patients receive novel and innovative treatments.
Thanks so much for your support so far.
---
During the third reading Lord Kakkar said:
"Clearly, providing transparency and the opportunity for sharing the outcomes of such innovations rapidly and broadly across clinical communities in this country and internationally is of so much importance.

It will allow colleagues to understand what has been achieved and not achieved; it will allow those with other ideas to build on knowledge gained from experience to date; and it will ensure that through transparency we have the best opportunity to ensure the greatest patient protection."
Lord Kakkar is professor of surgery at University College London and a member of the General Medical Council.
---
During the third reading Lord Giddens said:
"Science is a collective enterprise. It depends on the accumulation of evidence. It is crucial that that be recognised formally somewhere in the Bill, with this embodied as part of the advancement of scientific progress more generally"