It seems a long weekend and a long time when I have sat here to write my blog.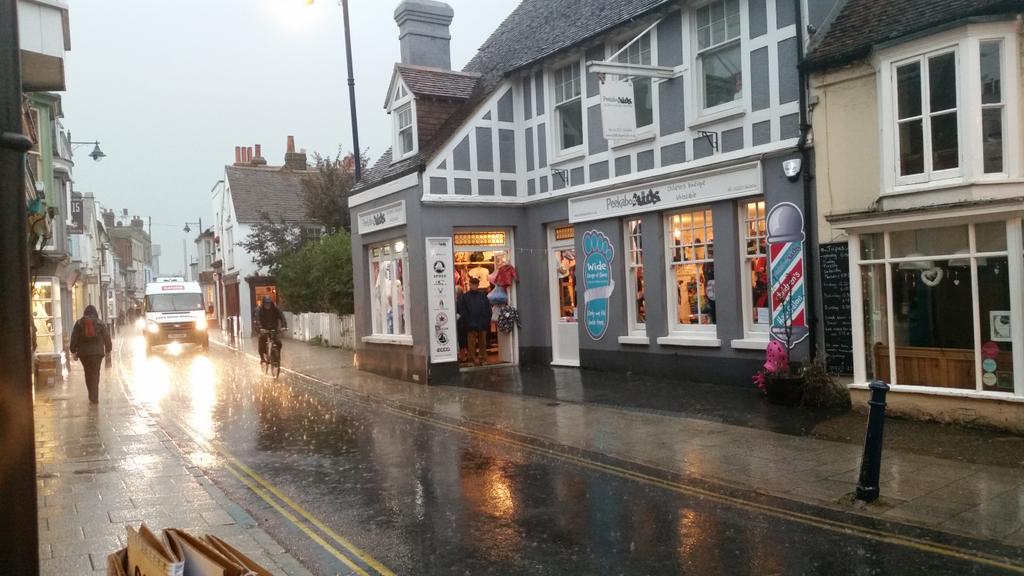 http://www.canterburytimes.co.uk/Weather-warning-storms-hit-Canterbury-Whitstable/story-27601757-detail/story.html
We set off to our sons house Thursday in the most horrendous thunderstorm.
The rain was gushing down just as we wanted to take everything to the M/Home.We went down in the car to save getting soaked and just as we went to the M/H a huge crack and a fire ball appeared over the hedge.EKKK!!!
Shock we dive in the M/H and Ray was soaked, but we set off to the main road.
Everything was ok until the M20 and a poor man had crashed his car on the concrete wall our side and 2 cars were crashed on the opposite side ?? Puzzled we just couldnt make out what had happened.Although the newspaper reported the very young man died so very sad.
The rest of the journey was Ok until another accident The motorway between junctions 13 and 14 in Surrey was closed in both directions following the crash which happened at 5.35am.
We sat with the engine off for a long time and I was just going to make a cup of tea when we were moving again.
So then we had a great run until M3-M4 traffic which we are always used to as its also Heathrow's turn off.
That was it we arrived on my sons drive and was so pleased to be safely there.
Friday we went to Tesco as it was raining and I wanted to see the Tesco in Slough. It is huge and so much nicer than ours.I didnt close the gates to the house and Louis was left in doors.
Well !! when we got back after about 1.30 hours we saw 2 police cars outside and just thought they had called in to the drive for a tea. They didn't move out the way as we tried to get in. Oh dear they had caught a man who had escaped from the hospital while in police care.He had run down the road being chased and broke a window to the shed to grab a bike to get from Wexham as fast as he could.
Thank goodness he didnt get to the house as Louis was in there. he must have barked and saved the day.
Our Hero
Well from then on the weekend settled down and we went to the balloon festival at Northampton.
On Monday we went to Richmond by train which was good fun on a very crowded train to Ealing Broadway, then the underground to Turnham Green then another one to Richmond. None of this goes underground so we passed some very nice places of this area. There were so many steps to climb though. I was puffed out at every station at least the teso we had been in a couple of days back had a moving pathway i think everywhere should have them.
We met 2 friends for brunch at a riverside restaurant.
Very relaxed in brilliant sunshine it was a very pleasant time.
We said our goodbyes and walked through the High Street back to the station and return journey.
Homeward bond today and another weekend was had.
It is so cold tonight we have had the heating on. Where is all this rain coming from.
We missed the Hernebay Air show and the Vulcans last flight -never no more. I have to honour this wonderful plane that has been with me through all my life at every airs how I have been to and I have been to so many thanks to my Dad and Brothers love of planes.
So here is her last flight –sad very sad x
The majestic Vulcan bomber XH558 was one of the star performers as it flew above the Herne Bay crowds for the last time at yesterday's air show.
The nuclear bomber, which is the only airworthy example of the 134 Vulcans made, is due to retire
at the end of the 2015 flying season because it has flown for 10pc longer than any Vulcan.
The aircraft was built to carry nuclear bombs during the Cold War and was produced at Woodford Aerodrome between 1956 and 1965.
XH558 was one of few Vulcans to be converted to a maritime reconnaissance role in 1973, while it was also used as an air-to-air refuelling tanker.
Read more: http://www.canterburytimes.co.uk/pictures-Vulcan-bomber-s-flight-Kent/story-27617310-detail/story.html#ixzz3jCPfD0CP
Rays Blog https://mesoandme.wordpress.com/