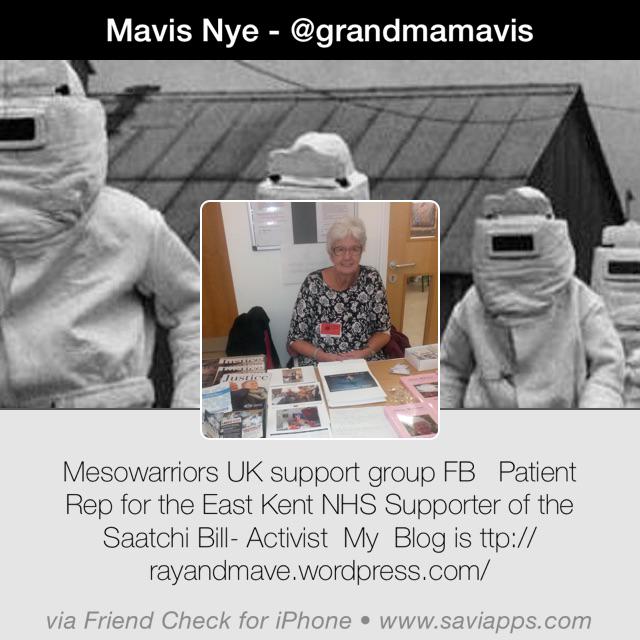 A dear friend put this together for me using my Tweet Account info and I Love it. Thank you Sanjay.
Its been a very tiring day as we really seem to get so worn out after the long day at the Marsden. We have worked out that we both get so uptight now as after 33 times over 66  weeks
Also today was bed changing day, that is one of the times I get so breathless. Ray came and helped and we managed together. Then the duvet cover I have a fight with that every time.
When it was all finished and washing on it was time for a coffee. phew!!
The day has been wonderful and sunny so we went shopping and dog walk.
The rest of the day has been on the computer in contact with the world.
---
Two things took my eye today
1 https://sourceable.net/diy-renovations-could-create-new-wave-of-asbestos-victims/
The increasing popularity of do-it-yourself (DIY) home renovations could create a new wave of victims of asbestos-related diseases including mesothelioma, asbestosis and lung cancer, experts warn.
In a recent media report, Asbestos Safety and Eradication Agency managing director Peter Tighe was quoted as saying that an increasing number of home owners who attempt renovation work such as the demolition of kitchens and bathrooms themselves may not realise that asbestos could be hiding in unexpected places if their home was built prior to 2000.
Tighe says asbestos was present in some 3,000 building projects made between the period spanning end of the Second World War up until the late 1990s, and that increasing numbers of people involved in DIY-type projects were being impacted by mesothelioma – a rare form of cancer that develops in cells of the protective lining that covers many internal organs and is primarily caused by exposure to asbestos.
"This is a ticking time bomb," Tighe is quoted as saying in the Australian Financial Review. "It's like a snake that's curled up and sitting under the sun. If you don't go near it and treat it with respect, you're not going to have a problem. If you go into its nest and disturb it, you've got a problem."
Tighe's comments follow last month's release of a national framework for the management of asbestos around the country. The framework will see the material removed in priority areas, as well as the creation of a singular point of information on issues relating to the material and the development of model grading systems, frameworks and processes.
While earlier waves of those who suffered from asbestos-related diseases stemmed from workers involved in the mining and manufacturing of asbestos and subsequently those who installed building products which contained the material, it is feared a third wave may result from home owners inspired by television programs to perform DIY renovations who may not be aware of the dangers involved.
Tighe says popular renovation programs have professionals who come in and remove asbestos prior to work being started, but this was rarely publicised.
"Instead, what you see is a punter on TV with a sledgehammer," he said.
Asbestos was banned from all building products throughout Australia in 1989.
Published on
09 September 2015
It is causing a second wave as the figures of Asbestos diseases is going up and that has been a surprise. DIY has been encouraged by so many TV shows for so long' SOS DIY and other programs do mention Asbestos but so many people have renovated their houses. We have a lot of work to educate people not to take risk
---
We have been discussing about DIY Tester Kits and how dangerous they are as it really is a job for experts. Then people will not clean the area properly and so put their family
Then I found another bad one
Even i can see that protection is nil. These videos shouldn't be on there and it does show how much ignorance is out there.
Oh dear the fight goes on.