I just wanted to mark 9/11 to remember today all those poor people who were involved in the horrific day.
There have been many photo's on face Book but the 3 that have really got to me are these Provided by Mesothelioma Center
Historical images of the World Trade Centre under construction show the use of deadly asbestos insulation.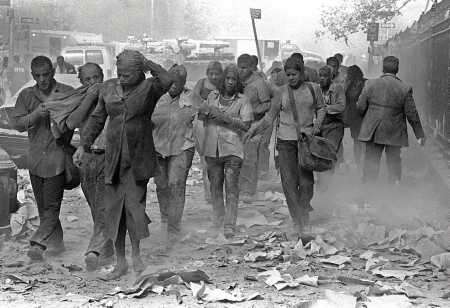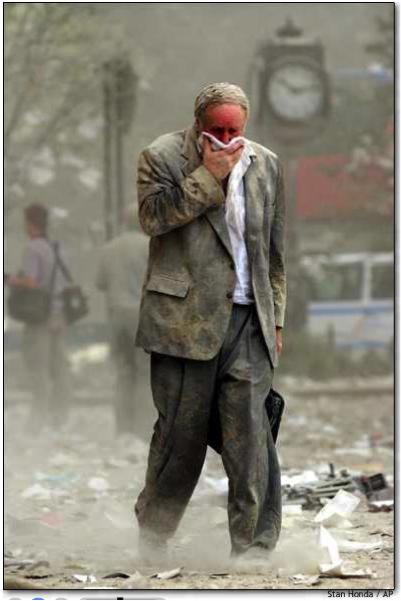 Then ADAO put on Twitter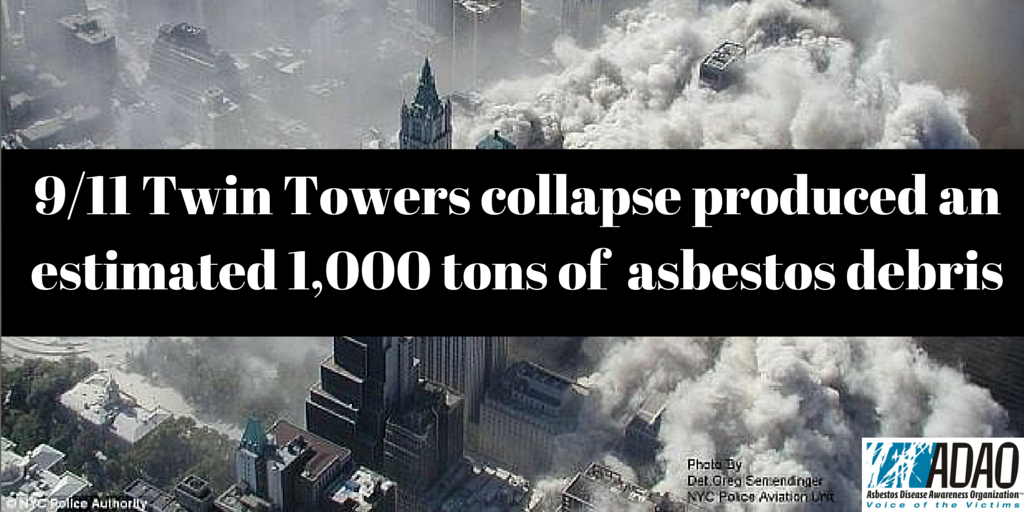 I know so many people died in front of us that day but how many will die through the years to date and through the years to come.
It is going to be thousands and we don't know how far the Asbestos was carried on the wind do we.?
---
We have had a bad day. Ray has woken up 2 days running with what he thought was cramp. I made him go t the GP who did some tests then he was made to go to the Minor Injury Unit
I didn't go with him so I was shocked to get a text from him saying that's where he was and was having blood tests and now he has to go back tomorrow for a scan.
Seems he has a might have a clot in leg. He is on clot busting drug just in case. We can't wait until tomorrow and hope the Docs fears are wrong but once again they have really looked after him Well done NHS.
I will go with him tomorrow. We went to walk the dog but he really can't walk without a limp now. Bless its his turn again.
Oh how getting old isn't that funny
---
At The Asbestos The Truth 2015 I saw a Presentation of the safety of Face masks when working with Asbestos.
The men have to have their face measured regularly. If a man has any dental work done it changes the shape of his face and the mask will not have  a true fit. understand that what I had never thought about is that if he goes to work with a stubble or a beard the fit of the mask is not correct. Now it is pointed out I can see it.
So that must mean that all Asbestos Strippers or anyone working with Asbestos has to be clean-shaven??
I was in contact with A Friend Paul Chamberlan Director at Wefitrpe ltd Benfleet Essex So I asked him for information.
. • A clean shaven policy is hard to enforce, staff will normally shave for a "quantitative fit test", but in the real world, days/weeks later when they need the mask for protection, they may be unshaven. • It is thought that facial hair such as beards or even being unshaven can significantly reduce the seal and the protection afforded by the RPE….
if employees can trim their beards so that the beards do not come between their face to respirator seals or interfere with respirator-valve function, then their use of the respirators would be acceptable provided they passed a proper fit test.
file:///C:/Users/user1/Downloads/10-03-1996%20-%20Inquiry%20on%20beards,%20respirator%20use,%20and%20fit%20testing%20of%20repirators.%20(1).pdf
So does that mean everyday their face beard has to be Measured ??
They did a test
There were 6 tests in total for each of the twelve volunteers – Day 1 (clean shaven) –
Day 3, Day 5, Day 8 and Day 12 (unshaven) –
Day 13 (clean shaven – control to support day one) • Also introduced a clean shaven volunteer for each test day, to ensure consistent results…
Im getting more and more fascinated as i read it.
The statistical evidence shows that the measurements were reliable. It highlighted that 2 days of growth (by day 3) is sufficient to jeopardize the mask's efficiency, even though things tend to worsen by day 12, however, the exact day of deterioration was inexplicable. • The results for Day 12 showed a significant reduction in fit factors for at least 50% of the volunteers, although, when analysing the data, only 15% of the fit tests failed the HSE protocol, this included all the unshaven tests.
Conclusions 3 • Therefore, this minimum figure of "100" could be interpreted as inappropriate for quantitative fit testing using the Portacount method with this type of mask? • It is possible for bearded users to achieve a numerically acceptable fit test, although the performance of the mask will be significantly reduced; hence facial hair degrades the performance of RPE and therefore reduces the protection factor
file:///C:/Users/user1/Downloads/Fit%20Test%20Trial%20with%20facial%20hair%20(1).pdf
You just dont realise there is a science to it all but I must congratulate Centrica Energy for the Test results please see them at the link above It is very interesting and has open my eyes .
file:///C:/Users/user1/Downloads/mandatory_testing%20(1).pdf
Thank you Paul I have learnt so much today through you xx