God Morning its the day after the Marsden which wasn't to good.
That journey was great even if it was pitch black as we set off. Dawn arrived as we reached the M25 but everyone was driving along very well and we arrived early even though we had stopped for fuel.
I had my bloods taken early and was back in the waiting room where Lynn and Richard had also arrived so we had a chin wag. I could feel the wave of weirdness over coming me again. I sat with my head in my hands and then wanted to go to the loo. I got up and everything was going black. I looked at Ray and pleaded Help me. He came with me to the loo and I came back a bit enough to carry on on my own.
He was waiting as I came out and we walked back to my chair and I felt a bit better. The doc called me in and he said it was blood pressure.
I think it really must be to do with getting up so early never sleeping well on the Monday night before our visit and the worry of the day ahead.
Anyway I told him about the rash and itching all over my body. He said take the piriton more regular throughout the day. He looked at the rash at the top of my leg and said it was a fungus so he wrote a prescription out..
We will wait for the scan next time it is all so very routine now. After 36 visits and nothing new going on in pain etc we drift on.
We went off to the food hall and I had some toast and gradually the feeling went off it had been very warm and now I was cold but I did recover.
The long wait for the drug to be made up but soon I was having my dose of Keytruda and we set off for home early for a change.
Anyway the journey home was very good and we arrived home at 4pm which was just great. Using the cream my rash has been comfortable and the coconut oil is keeping my skin so soft so things are looking OK.
I was needing some exercise so we walked the dog round at 8.45pm and the evening air was refreshing and very pleasant The moon shinning down and not a cloud in the sky. Then the rain has been hammering down from the early morning
.Sitting in my Twitter feed was this
Excellent research being funded by @lunguk at the @royalmarsden – Dr Koh looking at MRI scanning in #mesothelioma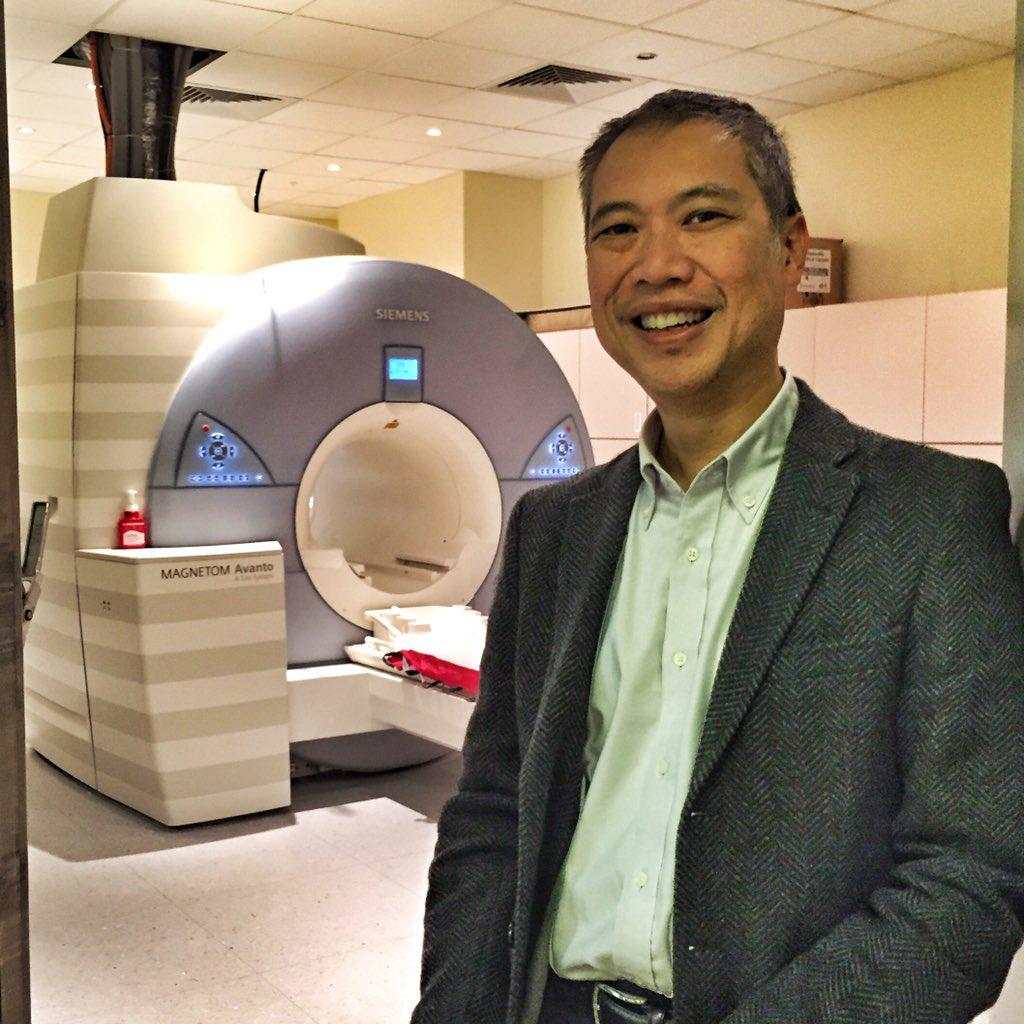 Its great that we have such funding as it takes pressure off the NHS and great they are thinking of Mesothelioma in such a high profile way.
Dr Dow-Mu Koh obtained his primary medical degree in Singapore (1989). Following further training in internal medicine and diagnostic radiology, he was awarded the fellowship of The Royal College of Radiologists (UK) in 1996. He was Senior Lecturer and Honorary Consultant Radiologist in the Cancer Research UK Clinical Magnetic Resonance Research Group, Institute of Cancer Research, and within the Department of Radiology at The Royal Marsden from 2001–07. He was appointed to the position of Consultant Radiologist in Functional Imaging at The Royal Marsden in January 2008.
Dr Koh's current clinical and research interest is in the development and application of functional imaging techniques for tumour assessment. He has a broad interest in applying MRI, CT and PET imaging for clinical and functional measurements.
He has a particular interest in developing and evaluating diffusion-weighted MR imaging in the body (DWI):
to enhance and improve the ability to detect and characterise tumours
to monitor the effects of conventional and novel therapeutics.
He also has an interest in gastrointestinal, hepatic and renal malignancies.
In addition to his research, Dr Koh has also been invited to lecture on numerous conferences and courses, including the UK Radiological Congress, European Congress of Radiology (ECR), International Society of Magnetic Resonance in Medicine meetings (ISMRM) and the Radiological Society of North America (RSNA) meetings. Dr Koh was elected a fellow of the International Cancer Imaging Society (ICIS) (2007) and is currently an associate editor of the British Journal of Radiology.
Dr Koh has had numerous publications in peer-reviewed journals and textbooks. In 2009 he co-edited a book, Diffusion-weighted MRI: Applications in the Body, published by Springer.
We are so lucky to have such great people in our NHS and such dedicated Doctors. Its something all us Mesowarriors have noticed the passion they have for us and our care.
Rays Blog https://mesoandme.wordpress.com/