My Invitation to speak at the 2015 Annual Conference
The NLCFN is delighted to announce details of the Annual Conference, which is taking place on 19th-20th November 2015.   Come and share best practice with your colleagues and learn all about the latest developments in the diagnosis and management of lung cancer and mesothelioma.
The venue is:
Beaumont Estate
Burfield Road, Old Windsor, Berkshire, England, SL4 2JJ
So Off we set and what a wonderful venue.
Within 40 acres of sprawling grounds lies the Beaumont Estate in Old Windsor.  Dating back to the 14th century, the Estate was a family home for many years until 1854 when it was sold to the Society of Jesus as a training college for novices and then it became a Roman Catholic boarding school. Nine years later a chapel was built by renowned architect Joseph Hansom with a barrel-vaulted ceiling, carefully painted in the early 20th century by Romaine Walker.
Once the school closed in the late 1960′s, Beaumont Estate was purchased by British computer company ICL who used it as their training centre. In 2003, Hayley Conference Centres bought the venue and developed it into an upscale conference venue. The original White House in the grounds and the Chapel were left untouched and under-utilised until Principal Hayley Hotels and Conference Venues acquired Beaumont House in 2007.
In June 2008, Beaumont Estate embarked on an ambitious refurbishment programme to completely renovate The White House and restore the Chapel. Just 5 months and £8.1million later and the beautiful, exclusive executive suite that is The White House re-opened and the magnificent Chapel was unveiled.
The White House and Chapel are just one part of Beaumont Estate and there is 40 more acres of conference, meeting and training space in Beaumont Estate and the Conference Village for you to explore.
http://www.beaumont-estate-windsor.co.uk/photo-gallery/
Thank you to all the Sponsors for a wonderful Conference Ray and I enjoyed it so much.
In 2 days we have had to take in so much Information but the thing that stands out the most is that we have a wonderful team of CNS Nurses looking after us Lung Cancer Patients. I cant thank you enough for the wonderful company of all of you and so many of you. I think there must have been over 300 people there. Am I rght ??
Wonderful Doctors gave their time.
On the whole I think Immunotherapy has come out well that it is the way to go so I was so pleased to be able to announce Im Mesothelioma free now. One Doctor Said that  It has been said if you live 3 years with Immunotherapy you can live 10 years. Whoopee I have lived 2 years almost -well in may–  So I will be able to prove that x
I was able to ask so many questions and I thought people would say "Oh no not her again " But it was not so Everton loved I asked so many Patient questions. They do love to hear what a patient has to say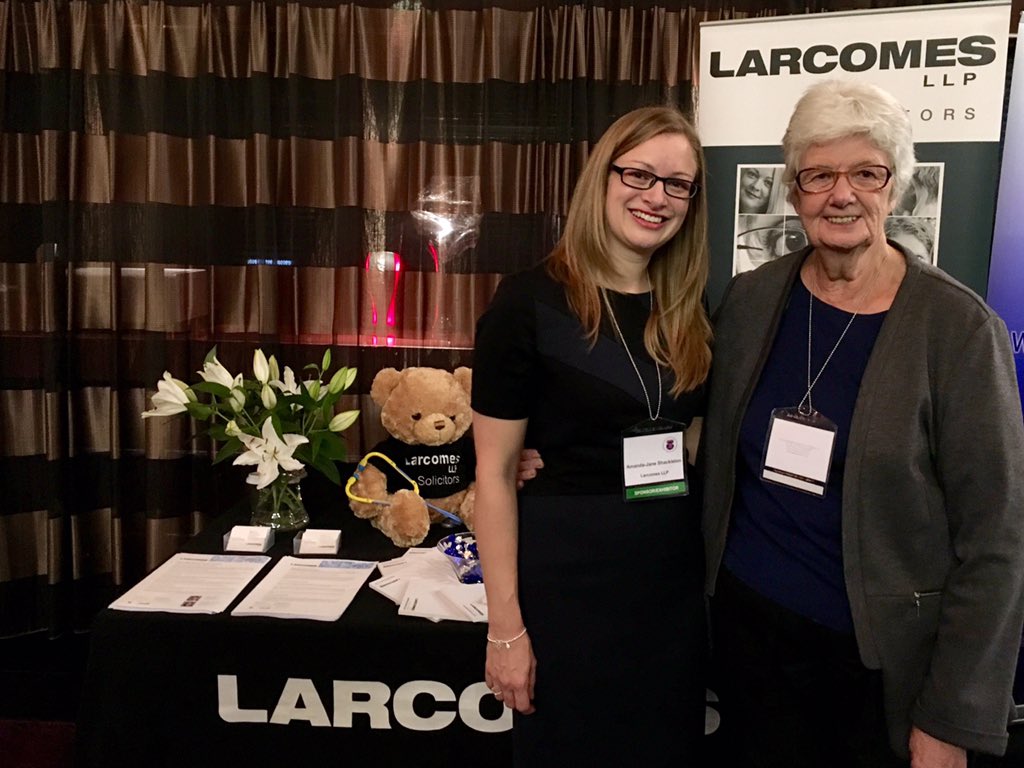 I met so many Lawyers and so many old friends from other or Facebook Friends.
Ray and I did a Double Act again and it was well received. Everyone in tears again even me I couldnt see the words for tears. I gulped and carried on.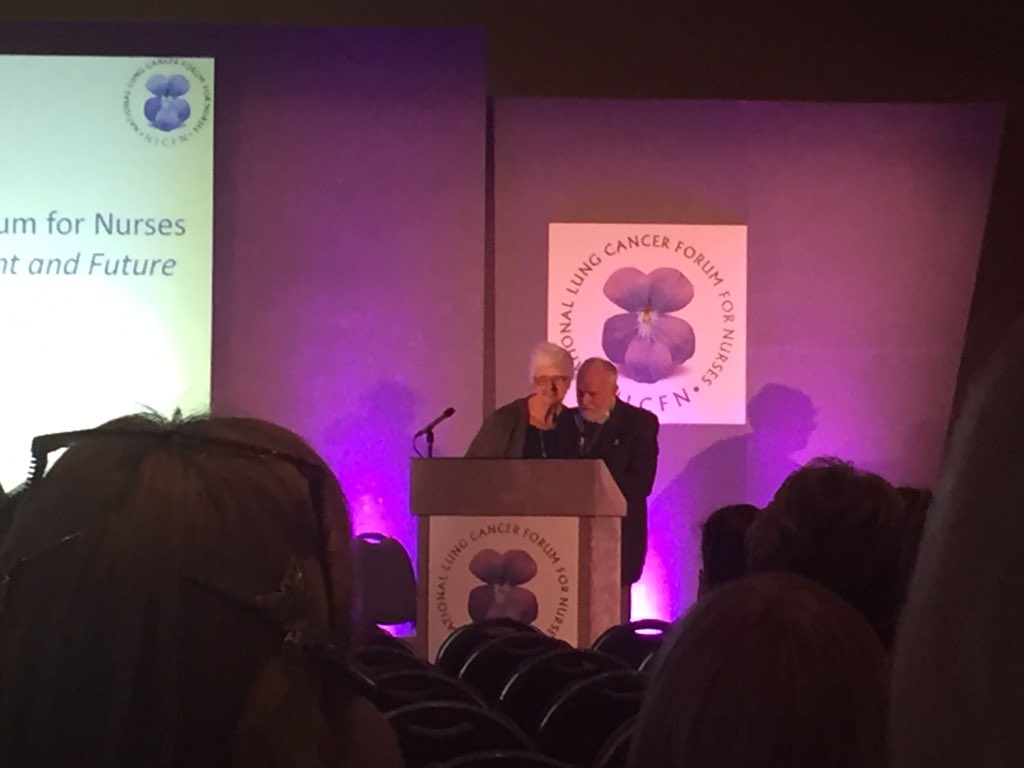 So emotional to be able to tell everyone Im Meso Free On MK3475
Unknown to me a man from Merck was there to listen to me. He walked over and was able to shake his hand but the beam on his face said it all.
He gave me his card and is going to arrange for me to talk to his team. I will love that and agree to talk to the men who dont get to talk to the patients much.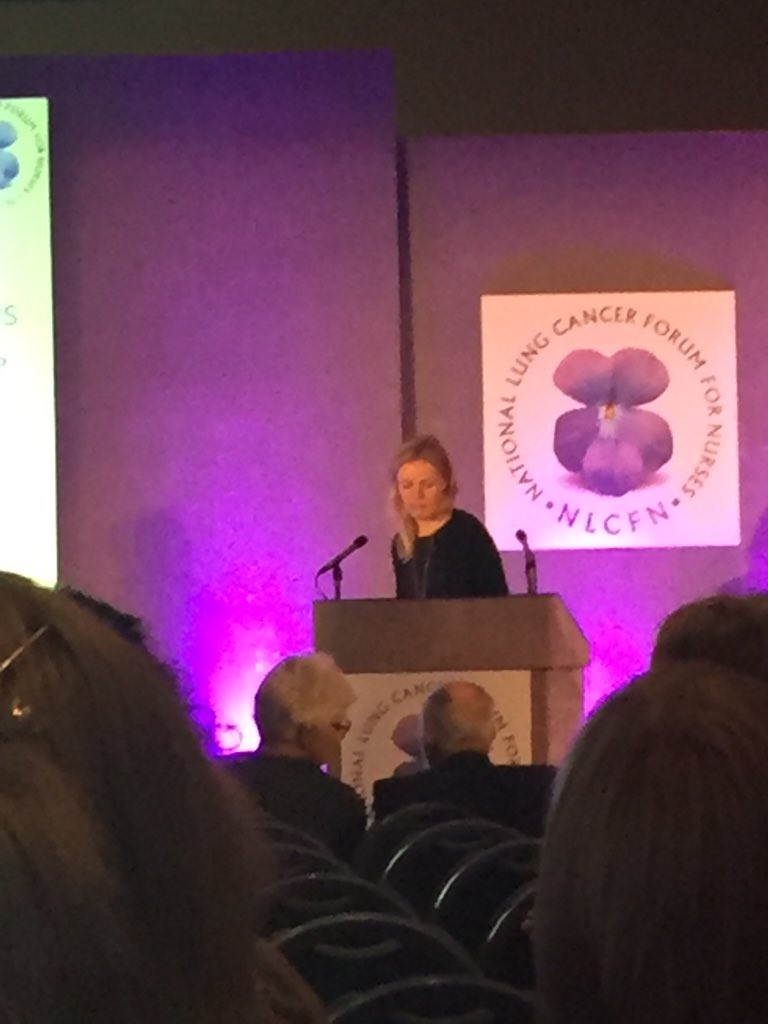 Dr Melissa Phillips discusses @AACR 2015 study on #immunotherapy for #mesothelioma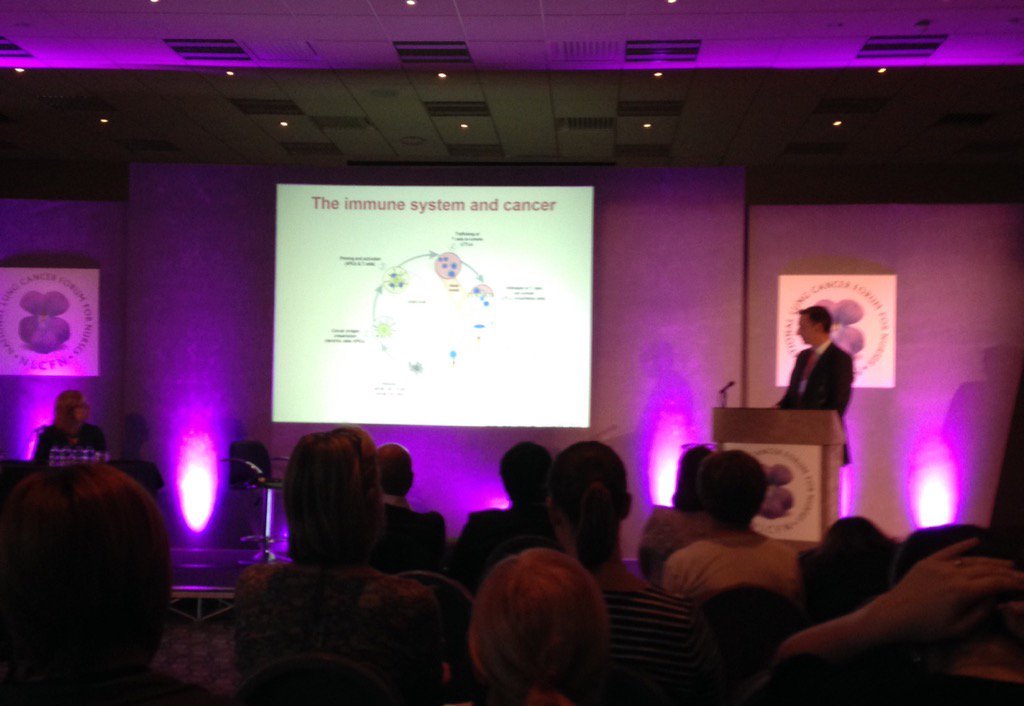 #NLCFN Dr James Spicer explaining the inexplicable… The immune system and immunotherapy for lung cancer
So much information to take in.
So the end of the conference came and we all said farewell to one another.
We have had a wonderful time and Im so pleased I was able to give my news on the right day of Lung Month and at the