I have officially finished my trial as I had travelled to the Marsden on Thursday to have the last infusion but Merck wouldn't release drug as they said it would take me over the 2 years.Well I really didn't mind as it meant I could take cakes to the nurses and sort out giving some books to the Doctor. He liked the Book 
That you can get free from Mesothelioma UK.
When I went to get more from the box I had left there Nickie told me they had all gone said there had been many Mesowarriors that had asked for them and she had passed some to her friend who worked in the out patients in the lung nurse.
It means I have passed out 2 boxes of the books which is brilliant and now the doctors have a few to give to patients and he will pass on when he Diagnoses Mesothelioma.
So I returned home after saying my goodbyes for a second time.
I will see everyone every 2 months when I go for my scans
Mesothelioma Action Day 2016
We had to get up early again yesterday as it was mesothelioma Action Day and I had been invited to talk at the TUC Congress House London.
We caught the fast train with ease and was in London within a hour.Then it went pear-shaped as they are doing so many road works and the app Ray had on his phone for a walking map just could pick it up.
We got the very crowded underground to Tottenham Court Road feeling like a squashed sardine we got back to the road but the map just wasn't working again so jumped into a taxi but watched the money ticking over in traffic jams but was happy it didn't quiet make £10.00.
It meant though we arrived dead on 10 where I was greeted by 2 wonderful Mesowarriors
Natalie and Sue who I had arranged to meet, just as Philip Lewis Of the TUC came to meet me as well and then said stay here and we will release the doves from here.
So thats was it they flew off to the roof tops 
Then Linda Reistein came rushing out to say hello. It was great to see her again but we just don't get time to talk as the speeches are made and so many people want to talk to us we get so wrapped up.
The speakers for the Day were Hugh Robertson TUC Health and Safety
Linda Reinstein ADAO USA who Ray said afterwards to her what a great speaker she is and he listened to every word with interest.
Then Me. I took ot from another angle this time and didnt talk to much about myself but about how we need the TUC and affiliated members to think of backing research as the victim's need more trials.
Harminder Bains of Leigh Day, specialist law firm.
She used the video of a dear friend and her husband that I steered towards the Marsden for the MK3475-153 trial Keytruda. Sue always has us in tears as she tells the story as a carer and Keith as the patient I love them both dearly
Keith was exposed to asbestos when he was working at Heathrow's Terminal 3 in the late 1980s.
Keith was told that all the asbestos had been removed from the area where he was working, but whilst working in a ceiling void noticed asbestos dust lying around a light fitting.
Keith was diagnosed with mesothelioma in 2014.the video of their story is here
https://www.leighday.co.uk/News/News-2016/July-2016/Mesothelioma-lawyer-speaks-out-on-Action-Mesotheli
Dr Peter Szlosarek gave a presentation of all the Treatments and trials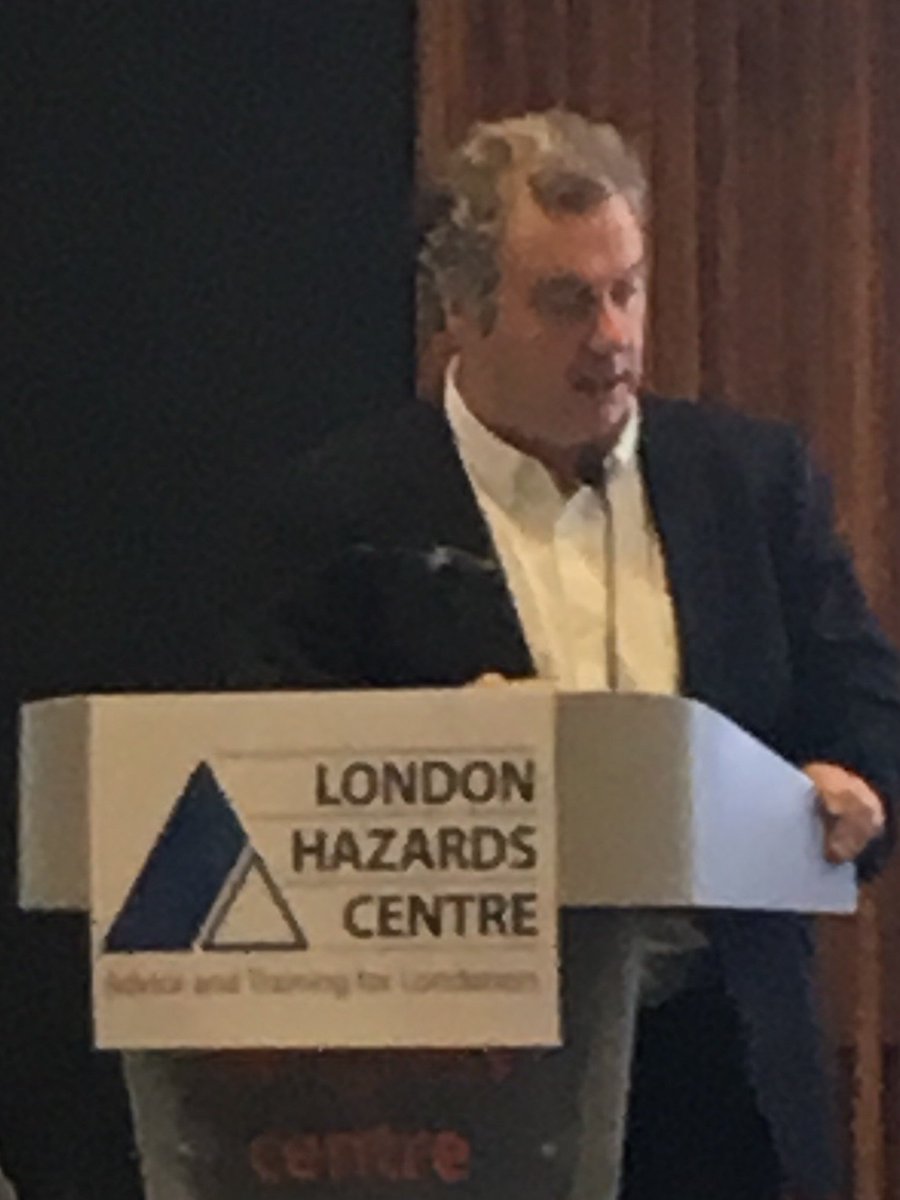 I will always remember our time at iMIG but Peter was so busy he had to rush off.
Susan Murry Unit
David Trigg Derbyshire Asbestos Support Team that is growing and growing beyond anything Joanne and Natalie could ever have envisage when we first met 7 years ago.
Tom Lennon President SERTUC
Sarah Lyons NUT/Asbestos in Schools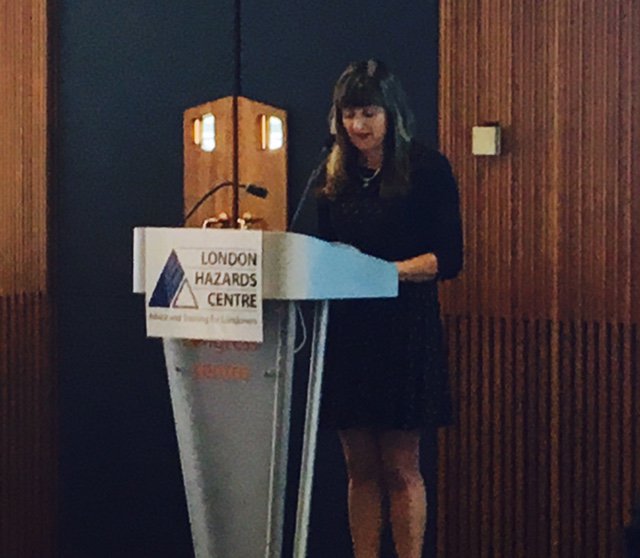 Gill Reed speaking on Brent Asbestos exposure  its frightening to know how Schools have not been surveyed properly and have to be done again.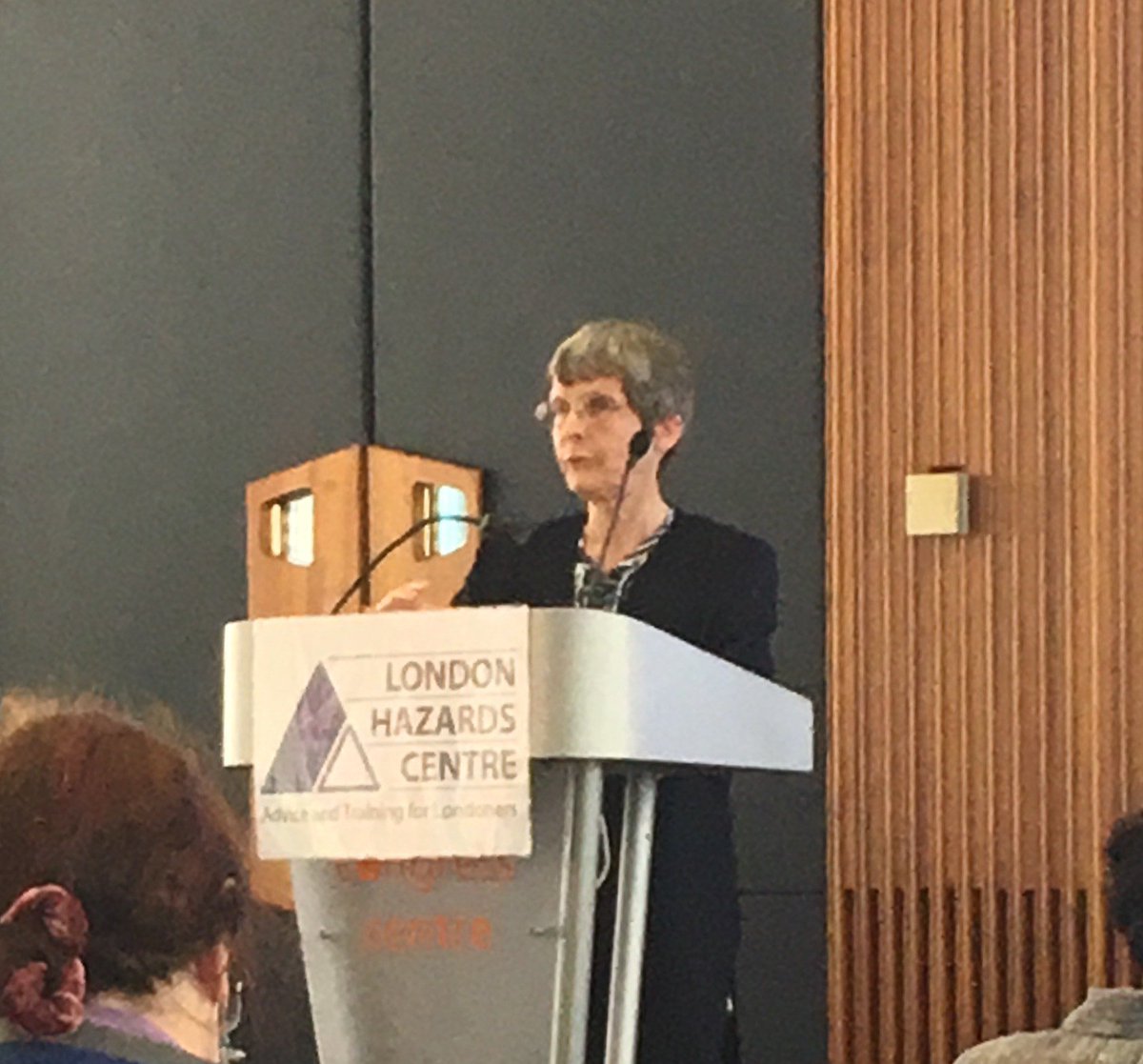 every Parent should read this report as it is the same story all over the country
https://www.teachers.org.uk/sites/default/files2014/asbestos-management-in-brent-schools-full-report.pdf
We then had a Q&A session and from this came some interesting points for the future
Philip Lewis acting Chair London Hazards Asbestos Group.then closed the day.
London Hazards Centres involvement in aiding and offering advice to people suffering from the blight of Mesothelioma is getting stronger and more effective; Phillip Lewis is totally committed to making the asbestos arm of the lhc as effective as it can possibly be; as is all the team at the London Hazards Centre and their many friends plus the professionals who contribute their time and expertise to help us.
We all went than to dinner and a great discussion with Phil and Gill where I have agreed to help out at House of Commons Meeting for Asbestos in Schools.
Phil Ray and i shared a taxi and guess what it cost as much as the taxi from Tottenham Court Road to TUC Congress Road and yet we travelled all the way to St Pancreas Station. Thus saving the cost of the tube, now work that one out.
We had a wait for the train so thought of finding out about Euro Star and our trip to Amsterdam in Sept. we couldn't get near to asking as it was so crowded with people buying tickets for the Paris Train.It was Friday night after all. so we went back up to platform 11 and waited for our train to arrive and get home where we were grateful for a nice cup of tea.
Isobel Lovett of @hodgejonesallen with #mesowarrior @grandmamavis at London's Action Mesothelioma Day #AMD2016
I would like to share the words By Andrew James | Senior Associate
ACTION MESOTHELIOMA DAY
Action Mesothelioma Day is a chance to remember the more than 2500 people who died of this disease last year in the UK.
We should also think about the similar number who will die this year and in the future. The current estimate is that mesotheliomadeaths will peak in the UK within the next 5 years but previous estimates have been wrong, usually based upon a combination of the dates of importation of asbestos until banned and the perceived average latency period for the disease.
Although blue and brown asbestos were banned and ceased to be used from 1985, white asbestos, chrysotile, continued to be imported and sold until 1999. It is this type of asbestos used in products like "asbestolux" that was widely used in the 1980's as a fireproofing board material in schools, shops and offices.
Many of the cases we see nowadays are from carpenters and suspended ceiling tile fitters who cut this asbestos board either by hand or using powered saws. Electricians who cut into the board and ran cables in the suspended asbestos ceilings or ducts are also at risk.
The latency period for the disease was generally thought to be up to 50 years from exposure. However we are seeing many older victims because general life expectation has increased. In the past they would have died of other causes before the development of the disease. I currently have a 92 year old client and the reality may be that this disease has no upper latency limit.
Sadly there are also an increasing number of younger victims appearing as school pupil cases. The lower latency period is 15 years and studies have shown that younger people, still developing physically, are more at risk of mesothelioma. The exposure to asbestos in classrooms is the result of the decision to put in place a system build programme for local authority schools that used asbestolux as a material for walls, frames and ventilation ducts. Most of that material is still in place and continues to pose a risk.
There is no cure for mesothelioma and it is vital that research is supported to seek an effective treatment. With the continued importation of asbestos to developing countries it is unlikely that we will see a peak to the number of deaths worldwide to this disease anytime soon, even if asbestos was finally banned globally before the next AMD.
Our Industrial Disease Solicitors are backed by nearly four decades of experience. Our legal practice and team of London Solicitors have a strong track record of achieving favourable client outcomes. For expert legal advice use our contact formor call us on 0808 250 6017 today.