NICE approves new cancer drugs for routine NHS use

Two cancer treatments, previously only available to patients through the Cancer Drugs Fund (CDF), will now be routinely available on the NHS.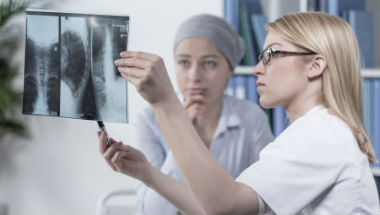 NICE has approved bosutinib for leukaemia and pemetrexed for lung cancer for routine use on the NHS because the companies that market them lowered their prices.
Since April, NICE has been looking again at the cost and clinical effectiveness of drugs currently in the old CDF.
Previously both drugs had been available only if a person's doctor applied through the Cancer Drugs Fund.
The discounted prices mean that both drugs are now considered value for money.
Professor Carole Longson, director of the centre for health technology evaluation at NICE, said: "It's great to see that companies are engaging with our CDF reconsideration process in a constructive way, resulting in these positive recommendations. This is good news. As these drugs move into routine budgets, CDF funding can be freed up for other new and innovative cancer treatments."
The NHS now has a legal obligation to make both drugs available to all eligible people who need it, if they and their doctor agree it is the right treatment.
NICE has recommended bosutinib to treat some people with chronic myeloid leukaemia when other treatments no longer work.
Pemetrexed was already recommended as a first option for people with advanced non-small-cell lung cancer. The new guidance means it will now be available to a broader range of patients as an option to stop a person's cancer returning if they are in remission.
Both bosutinib and pemetrexed work by targeting specific cancer cells to stop them growing and multiplying.
https://www.nice.org.uk/news/article/.V710T26nTbk.facebook
———————————————————————————-
I have found this to be exciting news that the new Fund is in place and working as we have some very expensive drugs being Trialed at the moment so it looks that this might cover them coming into place.
With The Francis Crick opening up so much research is going on now so we need all the help in the NHS to keep the cost of drugs down as well.
The new building, located in the London Borough of Camden, will open soon amid a unique cluster of scientific skill, leading hospitals and one of the world's top universities, UCL. It will provide a new focal point for the considerable talent and knowledge in the area while playing its part in the life of the local community
The biggest story to hit Social Media is
Chinese cladding contractor facing HSE asbestos probe
The UK division of Chinese cladding giant Yuanda is facing a formal investigation into the potential import and use of building materials containing asbestos.
The Health and Safety Executive has launched the probe following problems on Yuanda sites in Australia.
White asbestos was found in roof panels imported by Yuanda from China and used on a new hospital in Perth.
A letter seen by the Enquirer states that the HSE has "established contact with Yuanda (UK) Co. Ltd. to conduct preliminary enquiries, establish their relationship to Yuanda Australia, understand the operation of their supply chain and the specification and quality assurance and quantity of materials they bring into the UK."
It is understood the HSE has taken a number of samples from Yuanda sites in this country.
No-one at Yuanda UK was available to comment but it is understood that the firm is confident that no materials used in its projects contain asbestos.
Yuanda UK told campaigners at the International Ban Asbestos Secretariat: "We have undertaken a comprehensive review of all our materials and products and confirm that none used in the UK and Europe raises any concerns.
"The materials used for our projects are all specified and checked by Yuanda UK and we do not use materials from the suppliers who provided the materials in question in the Australian projects."