This has been a great experience today.
We got the Fast trial to Stratford International and then got on the DLR.
What an amazing service but later told there was no driver. How amazing. I have used it before from Greenwhich but didnt notice then that there was no driver
http://www.visitlondon.com/traveller-information/getting-around-london/docklands-light-railway-network#w5elmJFjV1q01Im7.97
Even their link doesnt explain it has no driver ??
We arrived at Custom house and walked straight into the Excel all so easy.
We had arrived http://www.landremediationexpo.com/showguide/#PageHeading
We walked in and was trying to find Mini Containers. I was walking along and walking backwards when I bumped into a man and then realised it was Chris Ward From IATP. He presented with the IATP award 7 years ago. It was all cuddles and kises as he couldnt believe how well I looked. This was going to be a great day.  Photo's started then and we were smiling away.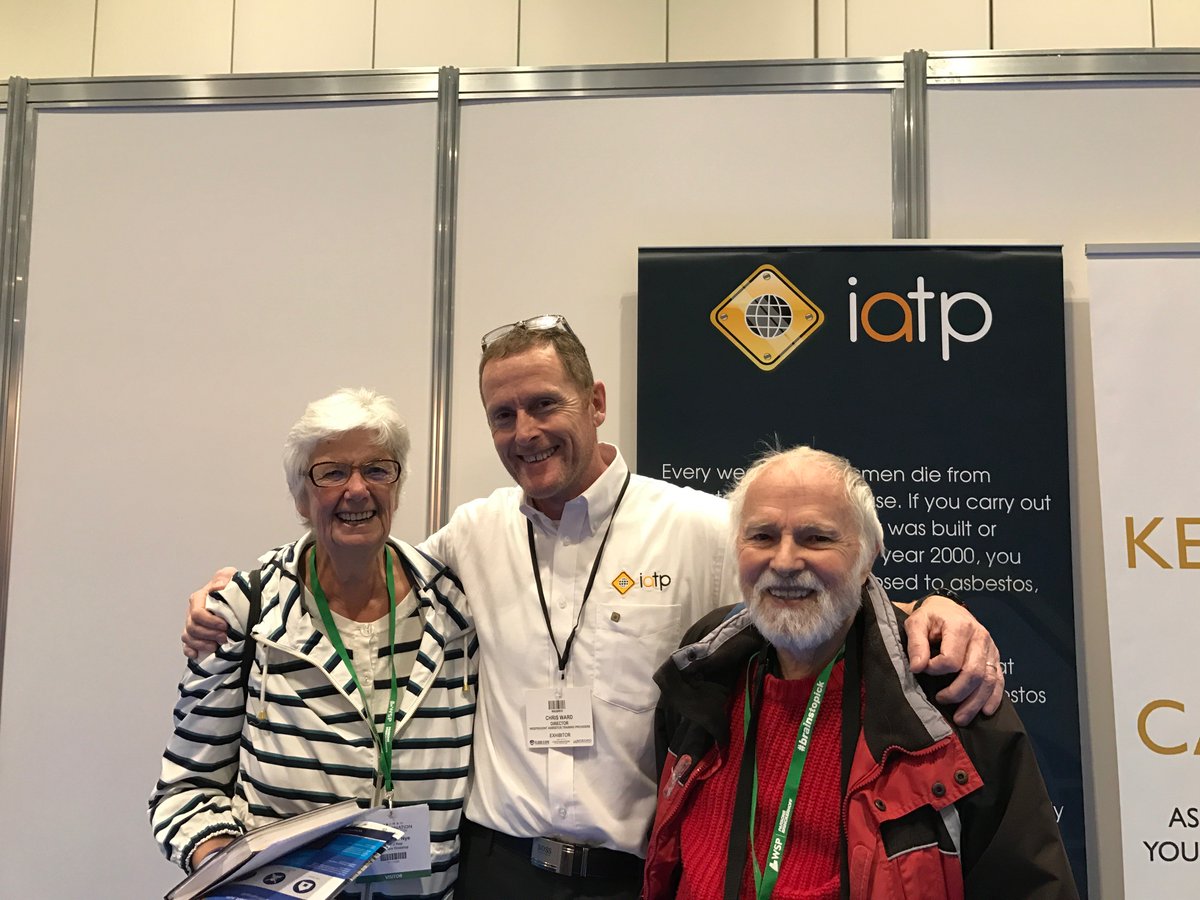 Turn around and Ray had been talking to a young man and had mentioned he was with Mavis. Not Mavis Nye Oh! I must say hello and I turned around and saw a him. We are contacts on Linkedin and I have shared his work Luke Mitchell Business Devolpment at Breathe Safety
And Chris of coarse, he just couldnt get over I had surprised him and attended.
We carried on walking around and had a Coffee and a biscuit and went back in to see Small Containers do his Presentation to back him. The HSE gentleman was there and other people who have all shown a great interest in the product
He mentioned I was in the Audience and afterwards men came forward to meet Ray and myself. I find it so funny that they know me and are on Linkedin, Twitter and Facebook. My Cyber pals.
I was amazed at how young Craig Evens General Manager at UKATA (UK Asbestos Training Association) was. We had a long chat and caught up as we have been having messages on Linkedin for a long time and never have met before.
I then watched a demonstration of a mask but then I found My dear friend Paul Chambers Director at Wefitrpe ltd Benfleet Essex who trains and coaches and we often exchange info on Linkedin
He also gave me a demonstartion of his machine if you work with any Dust particles, Chemicals, Fumes, Gases or Biological, you may need RPE due to changes in the Health & Safety Act.
Do you already use RPE from FFPs (disposable) to Full Face?
Using any type of tight fitting face piece requires by Law to have a Face Fit.
We offer a totally mobile service to your company or any premises your employees may be working. Performing Accredited Face Fitting Testing on Qualitative, Quantitative & N95.
Also RPE/Competent Person Training with a friendly professional service working round your needs as a company.
Feel free to contact us with any inquires…
sales@wefitrpe.co.uk
www.wefitrpe.co.uk
Well we had walked around and if I sum up the day I will say I have met some wonderful people who are so dedicated to asbestos and to the prevention of asbestos diseases.
Thank you so much but please look after yourselves and keep safe. I dont want you to suffer what we have suffered. Thank you all for making me so welcome today as I stepped into your world and if there is anything I can help you with just ask, I love sharing info.
One last wonderful peace of news was a message for Dennis of Mini Containers
Im so proud of you for winning the Asbestos Innovation Award Runner Up  xxxxxxx
Then SMH well done for winning the top prze you derserve it for all your hard work.
We won! Our online asbestos site management system came out top with the judges of the Asbestos Innovation Award at the Contamination Expo 2016 in London

🙂

The show is open again tomorrow, so if you are visiting, make sure you pop by stand C540 to say hello to the team and be introduced to IRIS.