The weird days are going on and on but we are tucked in safe as we have no hospital appointments. We are not divorcing either ha ha !! Is a wonder as we have only our own company each day.
Now the second wave is coming for the winter so its a case of pulling up the draw bridge and staying behind the door.
Thank goodness for Zoom.
We had a great evening last week as Royds Withy King held a competition.
We are launching a Vintage themed Poster Competition to raise funds for mesothelioma charities. All you need to do is recreate your favourite vintage poster – using props, costumes, pets..!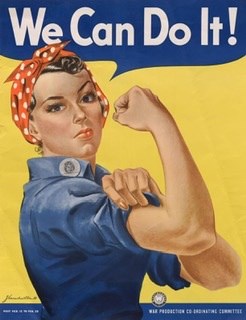 Will you be the iconic Rosie the Riveter "we can do it" – you may decide to "Dig for Victory" instead – or maybe "Fit Men Wanted" is more your style!!
We had a laugh and it really was a party atmosphere a great successful evening.
The Spitfire one which was great as it does really depict the wartime so well everyone loves the spitfire. This one actually did carry my name under the wing as Royds Withy King team had sent my name in to be carried on the wing alongside so many other names and then the plane flew all around Kent to say thankyou to the NHS and i say a huge thank you to
Jennifer Seavor@jennifer_seavor
helen childs@HelenChilds_rwk for arranging this fun night
Then the rest of the week I also had research Zooms with Surrey Research, Kent Macmillan as a patient rep to help put together a chart for the GPS 2 week wait.
Monday I popped into HASAG Coffee morning so it is great to talk to so many friends I was made so welcome and it was great to be able to talk about how we were feeling in the lock down.
The diary is full for November so I have a lot to look forward to I will report back.